Oklahoma – The 46th State
In November of 1907, the Oklahoma Territory became the 46th state of the United States. Nicknames the "Sooner" State due to the land runs that opened up the territory for those who would want free land and a place to work and raise a family. Can you imagine thousands of people in covered wagons and on horseback waiting for the gunshot that would send them racing to an unknown piece of land they would charge ahead to stake a claim?
Early History
What you see today as Oklahoma was much different in the late 1800s. There may have been a few outposts here and there, but mainly, Oklahoma territory was known for outlaws and Indians. With plenty of pasture lands and flat terrain, Texas ranchers started moving north looking for new ranges to feed their growing herds. Later the U.S. Government decided to "open" up the land for settlement, thus creating the famous "land runs" beginning in 1889. The name Sooners was adopted due to those settlers who broke the law and crossed the border 'sooner' than they were supposed to. However, the first land run did not include the entire state, but a small portion in what is now Central Oklahoma.
Before the Land Runs
The name Oklahoma Territory was widely unknown in the early days. Purchased as a part of the Louisiana Purchase in 1803. However, the area included in the purchase did not include all of what is now the State of Oklahoma. These lands included 827,000 square miles of land west of the Mississippi River. What many don't realize is this purchase actually doubled the size of what was in the United States at that time. Later these lands would become states known as Louisiana, Arkansas, Oklahoma, Missouri, Kansas, Nebraska, South Dakota, North Dakota, and parts of New Mexico, Montana, Wyoming, Minnesota, and Colorado.
---
Trail of Tears
The word Oklahoma became infamous in the early days due to the forced removal of the Choctaw, Cherokee, Chickasaw, Seminole, and Creek tribes. This became one of the darkest moments in US history. Nearly 100,000 Native American Indians were forced to leave everything behind and marched to what was then called Indian Territory. Oklahoma has several museums, statues, and memorials dedicated to those tribes who lost so much.
---
Cherokee Bill Captured in 1895
Early Day Outlaws of Oklahoma
Just to mention a few of the many outlaws that roamed and terrorized the Indian territory, such as Belle Starr and Jesse James. Crawford Goldsby, known as Cherokee Bill was another outlaw operating in the territory. Later joining up with Jim and Bill Cook forming the "Cook Gang".
Not an outlaw, but just the opposite, Judge Isaac Parker, called the "Hanging Judge" was appointed over the then lawless territory in the late 1800s.
---
Oklahoma Territory 1889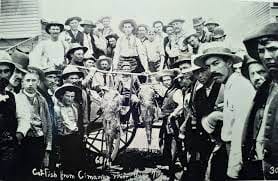 Oklahoma's Beginning
What is known today as Guthrie, Oklahoma was just a lone stop in a prairie along the AT&SF railroad the unassigned lands of Indian Territory. Chosen as the site for the Federal Land Office, where everyone was required to file a claim for their new "free" land.
But it wasn't just farmers and ranchers racing towards land, but bankers, barbers, hardware storekeepers, doctors, restaurant owners, and lumber companies to name a few. Overnight, Guthrie grew to over 10,000 people, eventually becoming one of the largest cities west of the Mississippi River.
Oklahoma State Seal Stolen in the Dead of Night!
The History of the Seal of Oklahoma
Controversy still exists today about what "actually" happened on the night of June 11th, 1910. We do know the seal and Guthrie were to remain as State Capital until 1913. The fact is, the state governor's election planned for Tuesday, June 14th, 1910, was changed to Saturday, June 11th. We also know that Governor Charles Haskell ended up with the seal and declared Oklahoma City the new State Capital.
What happened is what we still don't know due to rumors, myths, stories then, and stories recorded later. First, W.B. Anthony, the governor's private secretary, said he took it from the then capital building inside of dirty laundry and drove it to Oklahoma City. Years later, Waldo B. Phillips wrote an article that claimed custodian Jim Noble removed the seal in a box and brought it to Oklahoma City.
Original State Seal Returned
In due time, after nearly a century, the Original Oklahoma State Seal was returned to its original home in Guthrie, Oklahoma, at the site of the first State Capital building. Today that building serves as the Logan County, Oklahoma Courthouse. Of course, the original seal hasn't been used for its intended purpose in years and is considered a historical artifact and kept on display inside the current courthouse.
The Battle Lines are Drawn
At the present time, the battle lines are drawn on the football field, basketball courts, and baseball fields. I do want to mention softballs, golf, wrestling, and every other sport our two rival Universities compete in. We don't want to leave anyone out! It's bad enough on game days around here. Seriously though, it's all in good fun. There are cars with split license plates with one side showing OU and the other side OSU.
I'm not going to get into all the history of these two rivals or we would be here all day. Oklahoma has a history in sports and several of its athletes have gone on to become professional players. I dare say, lets' not leave out the rodeo professionals that grace our state as well.
Oklahoma City and the Lazy E Arena in Guthrie, OK, have been hosts to many professional rodeos, Team Roping competitions, Bull Riding Championships, and much more. The history of the Cowboy still lives on as strong as ever in Oklahoma.
Things to Do in The Oklahoma City Metro
Proud of Our History
We are proud of our heritage and the rich history the State of Oklahoma has to offer. Growing up in Guthrie, Ok, I feel a connection to this state still to this day. I hope you enjoyed a little bit of information on our history. With that in mind, we have created a bit of our own history in Oklahoma serving others as well.
First and foremost, we pride ourselves on the professionalism and dedication we provide homeowners and business owners. Whether it is a termite treatment, tree fungus, cockroaches, or bed bugs, we work to give you back your peace of mind while exterminating the pests. No home likes fleas & ticks in their homes or their pets scratching from being miserable. We can HELP! Give us a call or use one of our contact forms on this page. We would love to hear from you.